Lafayette has a rich variety of restaurants, but which ones have vegan options? We have you covered! Here is a list of restaurants in Lafayette, IN and West Lafayette, IN that have vegan options for your dining pleasure.
Sharma's Kitchen – located at 1403 Sagamore Pkwy N
Sharma's Kitchen is an Indian restaurant serving authentic Indian cuisine in a casual environment. Sharma's features a buffet to taylor make your meal. They also offer catering, take away and offer to book large parties, and as always, walk-ins are welcome.
Legacy Pub – located at 3230 Daugherty Drive
Legacy Pub offers a complete seperate menu with vegan and vegetarian options.
The Bryant Food & Drink Co – located at 1820 Sagamore Parkway West, West Lafayette
Check the menu a few options are available for vegan diets, and some can be modified.
Sweet Revolution Bake Shop – located on 5th Street Downtown Lafayette
Sweet Revolution has some vegan options for some tasty treats, including these delicious chocolate and vanilla cheesecakes!
Vegan Cheesecakes from Sweet Revolution Bake Shop
Thai Essence – located at 1534 Win Hentschel Blvd. West Lafayette
Most menu items can be made vegan and vegetarian, just ask the staff!
Escape Velocity Brewing Company Located at 405 Sagamore Parkway South
Open now! Escape Velocity offers a complete vegetarian menu with possibly vegan options and home brews.
Yatgarasu – located on 533 Main Street Lafayette
Yatgarasu offers vegan ramen and more.
Katana Sushi & Ramen – located at 1048 Sagamore Parkway, West Lafayette
Katana offers many vegan and vegetarian options. Soups, rolls and ramen are available for you to choose from.
Sushi Don – located at 3338 Main Street Lafayette
Sushi Don is an laid back restaurant offering sushi, Japanese entrees and some Korean dishes. Check out the menu and find several vegan dishes available.
Blue Nile – located at 117 Northwestern Ave #2, West Lafayette
Blue Nile serves up authentic Mediterranean Food in West Lafayette. They offer a list of vegetarian entree options and also some appetizers available too.
Igloo Frozen Custard – located on Tazer Dr. and Troxel Dr.
Offers Beyond Burgers and Dole Whip!
Amer's Grill – located at 3500 State Road 38 E Lafayette
Amer's Grill offers healthy Mediterranean food and takes pride in serving up fresh dishes. Several vegan and vegetarian dishes available. Amer's also offers a buffet to try several fresh and healthy dishes. Feel free to call ahead to see what is on the buffet.
Lafayette Brewing Company – located at 622 Main Street
Lafayette Brewing Company has some options to choose from. Below is an impossible burger!
Azzip Pizza – located at 105 Farabee Dr S Suite B
Azzip Pizza is a build your own pizza place with several options. Add all your favorite veggies to your pie!
Bistro 501 – located at 501 Main Street
Bistro 501 offers a variety of vegan and vegetarian options. Check out the menu and plan your meal before you go!
Teays River Brewing & Public House – Located at 3000 S 9th Street
Teays has several options available for vegan choices such as, cauliflower wings, turn any burger into an impossible burger, a variety of salads including a roasted vegetable salad and beet salad, and fruit.
Beyond Burger From Teays River Brewing & Public House.
Jack Fruit With Vegan Cheese Over Fries At Teays River Brewing & Public House
CoreLife Eatery – located on 105 Farabee Drive South, Suite 100
CoreLife Eatery offers entrees with fresh whole ingredients. Many vegan options and even a kids menu that can be modified to become vegan.
Cosi – located at 1101 3rd Street, West Lafayette
Offers a hummus veggie flatbread sandwich, oatmeal, fruit salad, soups, several salads including the make your own option, and fresh flatbread.
Green Leaf's – located at 101 Grant St, West Lafayette
Offers build your own salad and smoothies. Other dishes can possible be made vegan.
Freshii – located 102 N Chauncey Ave, West Lafayette
So many options for you here. Choose from soups, salads, bowls, wraps, smoothies and even coconut chia pudding for dessert!
Folie – located at 526 Main Street
Folie is a French and American fine dining restaurant. They have Portobello Mushroom Napoleon available that sounds delicious and some other dishes that can possible be made vegan.
Taco Rico – located at 1325 Sagamore Pkwy N, Lafayette
Taco Rico offers vegetarian options, like this fajita quesadilla pictured.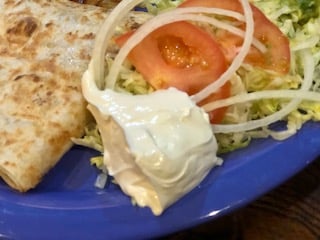 We hope this list will help you find your new favorite vegan dishes in Lafayette and West Lafayette. If you know of another great place to grab some vegan meals, let us know!
For current market information for your Lafayette and West Lafayette communities or a free consultation, contact The Aimee Ness Realty Group Lafayette Indiana. Our team with over 10 years of local experience, has your back to find your dream home, or sell your current home.