As we head into Spring and Summer we must start preparing for the stormy weather ahead. We can do our best to protect our homes, by making sure gutters are cleaned, we have proper drainage, and limbs from trees are trimmed. But, how do we protect our families? What type of shelter options do you have if a storm decides to roll through?
I decided to do a little research about storm shelters that could be used in the Lafayette area. There are many different types and all different price ranges. Here are some options I found if you do not have a basement or would prefer a shelter outside of your basement. Storm shelter systems can become costly. However, check with FEMA to see if you can qualify for a grant or some reimbursement. There are government funds available to those who qualify.
Shelters are becoming more popular and easier to access. You can even purchase in-ground or above ground shelters at places like Home Depot or Lowes. I suggest you check with FEMA's guidelines to be sure it will hold up to the storms you can expect in your area.
Here is the guide from FEMA to building a storm shelter.
First off, in the planning stages of building a shelter, you need to know what types of storms you are protecting yourself against. Basically to know how strong to build the shelter. Then decide if you are going to build above or below ground. If building below, you will need to have your soil tested.
Here you will see an interior safe room. It was all that remained after a tornado demolished the surrounding home. This room was built to the FEMA guidelines and was able to hold up against winds and debris.
If you are building a home, now is a good time to consider adding a storm shelter during the build. Talk with your builder if this is something you are interested in very early on in the decision making process.
Here is an example of an in ground storm shelter. When considering an inground shelter, keep these things in mind. Know what kind of soil you have, where the water table is in your area and what is under your planned site, bedrock? If you prefer your storm shelter to have a little more "curb appeal" you can incorporate it into your landscaping. Add flower pots and decorative pieces as long as it doesn't affect the integrity of your shelter.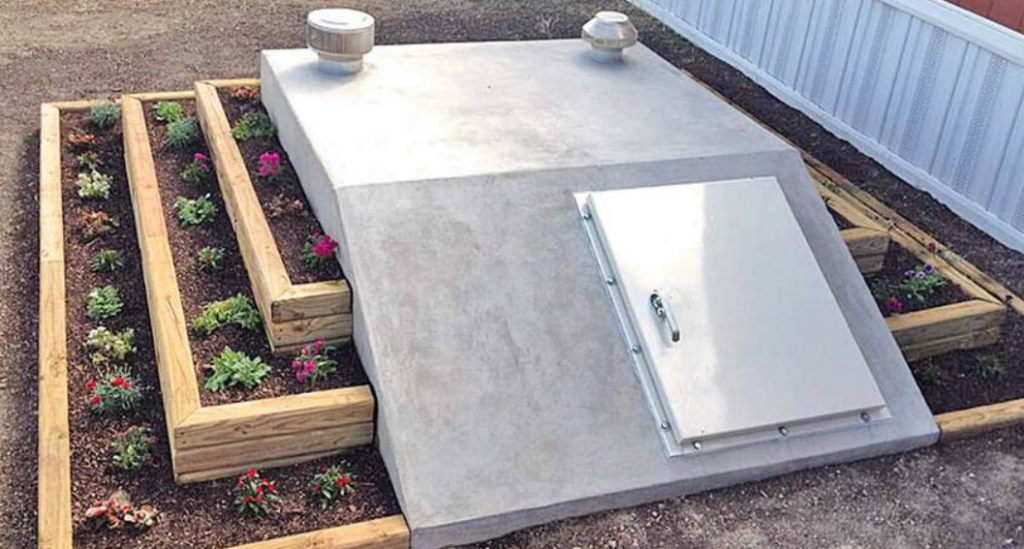 Once you build a shelter or have a designated safe place, how do you make sure it's stocked appropriately?
The most basic necessities for your shelter would be food and water. These items can be stored for an extensive time, however, be sure to check your supply and rotate old items out and new items in.
You should keep some extra shoes or boots, clothes and blankets. Keep these items stored in a waterproof device. Try one of space saving vacuum type bags to keep out moisture, and pests. Blankets and towels are especially important if your shelter is underground.
Keep some batteries and flashlights or lamps in your shelter.
Of course keep your first aid kit up to date in the shelter. If you have any specific needs keep these items in the shelter as well. For example, baby formula, medicine, or anything else you may need in the emergency.
Even if you do not have a storm shelter, you should make a kit to keep with you just in case of an emergency. If you take shelter in your basement, put these items in a tote and keep it in your safe area. Make sure you check the expiration dates of food and such and keep the kit updated.
If you have any tips or ideas, please feel free to let me know!
---
For current market information for your Lafayette and West Lafayette communities or a free consultation, contact The Aimee Ness Realty Group Lafayette Indiana. Our team with over 10 years of local experience, has your back to find your dream home, or sell your current home.